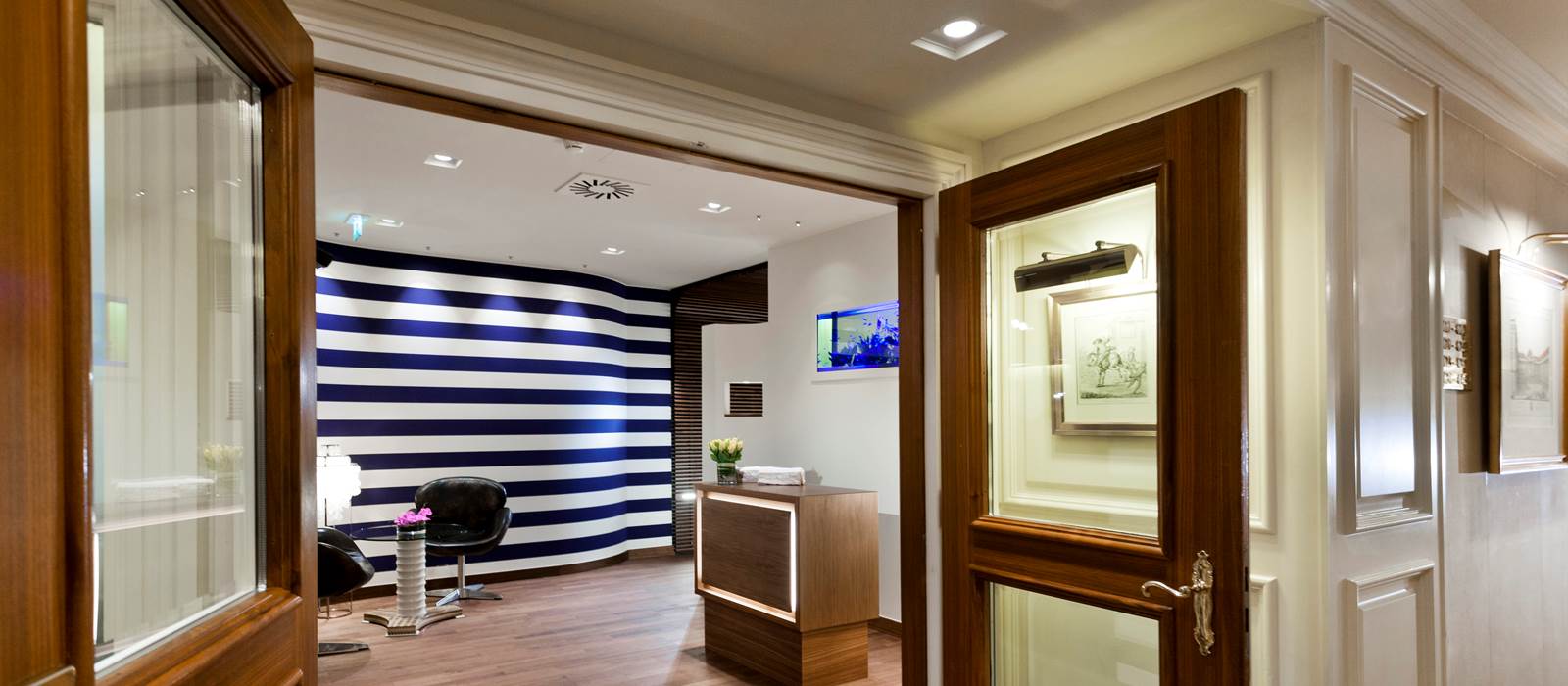 Gym
The Grand Spa was designed with the objective of gently but surely guiding our guests from acceleration to deceleration.
The reception opens into the cardio area, where a specially designed circular porthole lets in diffused light of the morning sun. Here, the latest technical equipment and refreshments lay the foundation for your cardio and strength training. All treadmills, ergometers, and crosstrainers offer screens with more than 30 different TV channels and Internet access.
Opened daily from 6-22h.
Treatments
The Grand Spa features two relaxation islands, AQUA and TERRA, both of which are dedicated to your inner and outer beauty.
The earth tones of the Terra treatment room are coordinated with the extensive selection of innovative beauty treatments that can be tailored to your wishes, with products by the renowned Swiss brand NIANCE and the innovative luxury line BIOEFFECT.
Terra's complement is the Aqua treatment room, offering highly effective, internationally developed massage techniques that depending on your desires either relax or revitalize your body and soul. While you let yourself be pampered by our spa staff, the meditative movements in the aquarium integrated in the wall provide an additional source of relaxation.
The key to the success of BIOEFFECT skin care products is EGF (Epidermal Growth Factor) cellular activator. Its discovery earned Dr Stanley Cohen and Dr Rita Levi-Montalcini the Nobel Prize in Medicine in 1986. Well known to the scientific community, EGF is prized for its ability to trigger cell renewal, assist in wound-healing and initiate the production of collagen and elastin.
NIANCE, as a genuine premium Swiss brand, is synonymous with highly-effective and utterly pure first-class skin-care, and innovative, dynamic concepts in the luxury anti-aging skin-care sector. NIANCE supplies effective products and holistic treatment methods for visibly rejuvenating the skin.