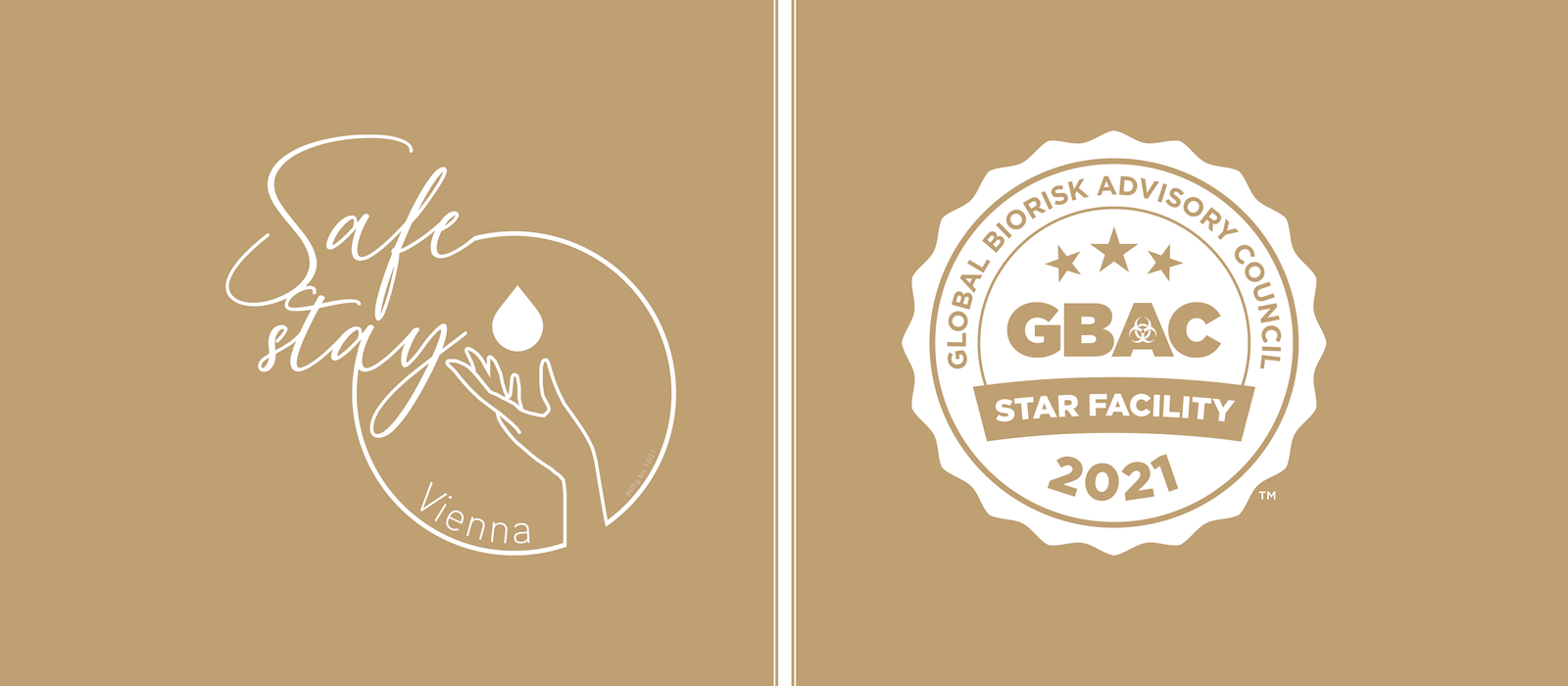 COVID-19 Information
January 2022
We are pleased to welcome all guests at the Grand Hotel Wien again!
Our restaurants UNKAI - Bar & Sushi, UNKAI - Japanese Restaurant (7th floor), Grand Brasserie and Rosengarten including the two outdoor terraces are open for you again!
Events and functions are possible at any time in compliance with COVID-19 requirements.
Should you have any further questions, please contact us:
Telephone +43 1 515 80 – 0
Fax +43 1 515 80 – 10
Email [email protected]
Entry to Austria
Starting from Monday the 20th of December, the Austrian Government has introduced new regulations when entering the Republic of Austria.

Guests need a proof of vaccination or past infection (not longer than 6 months ago by the time you enter the state of Austria) with a valid PCR test (* see exceptions below).

If the person has already received the "booster" vaccination (third dosis), then a PCR test is not required.

Please note that the proof of vaccination is only valid, with a vaccine which is authorised in the European Union.

* As of Monday the 27th of December 2021, the following countries have been declared as "virus variant areas": Great Britain, Denmark, Netherland and Norway. Travellers from these areas need to provide proof of three vaccines and a negative PCR test result in order to avoid quarantine.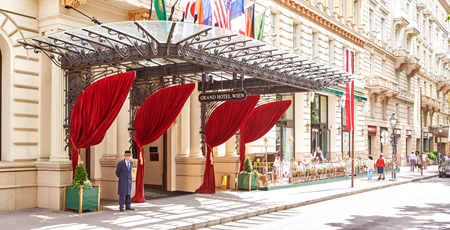 Important information before your arrival
Please only check in if you feel well and healthy.
A current valid recovery or vaccination certificate must be presented at the reception upon arrival.
According to the 2G rule that comes into effect as per 8th Nov 2021, access to the premises is limited to persons who
have a recovery certificate (medical confirmation) that is not older than 6 months
have received either their first vaccination (Johnson & Johnson) or second vaccination (Pfizer/BioNTech, Moderna or AstraZeneca) within the last 9 months.
If you do not have the opportunity to test prior to arrival, you can have a test done at nearby facilities.
As of 19th November 2021 the use of FFP2 masks in all public areas of the hotel is mandatory, except at your table in one of our restaurants.
Important information for your stay with us
We advise you in your interest to keep two meters distance from other people during the entire duration of your stay.

Please use the hand sanitizers available at the hotel.

For a stay beyond the validity of the entry test, we are obliged to insist on a PCR test including a certifcate of authenticity (eg for persons who just received their first shot or minors). These tests have to be performed in a pharmacy or test-station.

The test validity is 24 hours for Anti-Gen-tests and 48 hours for PCR-tests (valid for children age 6 to 15).

Our reception staff will inform you about the nearest pharmacies or test stations.
Your safety at the Grand Hotel Wien
Contact-free disinfectant dispensers are available throughout the hotel. The body temperature of all employees is measured before starting work.

The enormous effort put into cleaning, disinfection and prevention of risks is also reflected in the Grand Hotel Wien's GBAC STAR™ award. The GBAC STAR™ accreditation stands for the highest standard in terms of prevention of infectious agents as well as the corresponding setting of effective measures.
All employess are following the 3G rule at all times, which means they start their shift tested (PCR tests), officially recovered from a previous infection or already vaccinated.
Our Covid-19 officer at the hotel coordinates the compliance with all measures.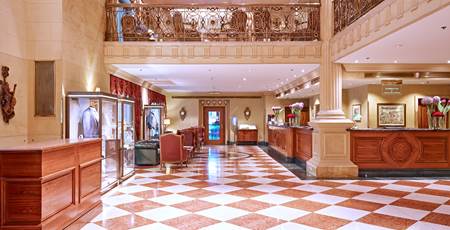 Reception, Check-In & Rooms
You will find contactless disinfection dispensers at the hotel entrances, at the reception desk, in our guest elevators and in all public areas.
For extended protection, we have installed plexiglas panels at our reception desk. The wearing of FFP2 masks by our staff effectively protects all guests.
All rooms and suites are additionally disinfected with a cold nebulizer before check-in. In addition to the highly meticulous cleaning standards of our hotel Sensitive items such as TV remote controls or telephones are also disinfected separately. Disinfection dispensers are available for our hotel guests in every bathroom. For the protection of our guests, any magazines and newspapers have been removed from the rooms.
Where possible, rooms are not reoccupied until the following day after guests have departed. For maximum spacing of guests in the house, we try to leave an unoccupied room between occupied rooms.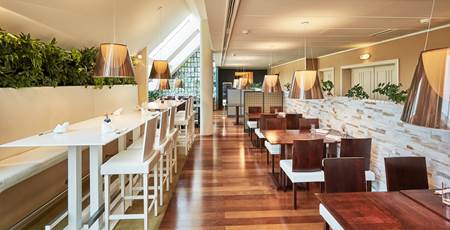 Bars & Restaurants
For all our restaurants and bars we have to follow the instruction of the general registration requirement for each guest.

According to federal government regulations only guests providing a proof following the 2G rule (recovered or vaccinated) may enter the premises. AntiGen and PCR tests are valid for all guests aged between 6 and 15.

As of 19th November 2019 our restaurants and bars nad guest restrooms can only be entered and exited with a FFP2 mask. Guests can take off the FFP2 mask at their table.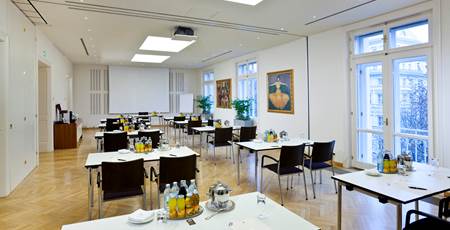 Events at the Grand Hotel Wien
In accordance with federal government regulations, events may only take place with orderly access control and guest data collection.

Meetings without assigned seats can take place indoors and outdoors with up to 25 participants. The 2G rule and mandatory FFP2 mask continue to apply here.

For meetings with assigned seats indoors and outdoors, the measures will be adjusted depending on the size of the event and it is mandatory to wear an FFP2 mask:

- The 2G rule applies to a maximum of 500 people.
- The "2G-Plus rule" applies to a maximum of 1,000 people, which requires attendees to show proof of a negative PCR test result in addition to a valid proof of vaccination or recovery.
- For a maximum of 2,000 people, participants must be vaccinated three times and also submit a negative PCR test result.

An event with 50 or more persons is subject to notification. An official permit must be obtained for events with 250 or more people.

Furthermore, every organizer is obliged to name a COVID-19 representative and to submit a prevention concept in advance.

All premises are disinfected in advance with a cold nebulizer. Our Covid 19 officers are available at all times to ensure compliance with safety concepts and to answer any questions.
Grand Spa No 605
We are happy that we can offer you the fitness area again (daily from 6 am to 10 pm).

Furthermore we are happy to offer our sauna, steambath and sanarium again during 10 am to 10 pm daily.

For your optimal safety, the gym and spa area is thoroughly cleaned and disinfected with a cold nebulizer

Please be advised that the use of FFP2 masks is mandatory while entering and exiting the spa and fitness area as well as changing rooms and restrooms. The mask can certainly be taken off during training and the use of the sauna and steambath.

We do apologize for not being able to offer you beauty treatments and massages for the time being.

Many thanks for your understanding!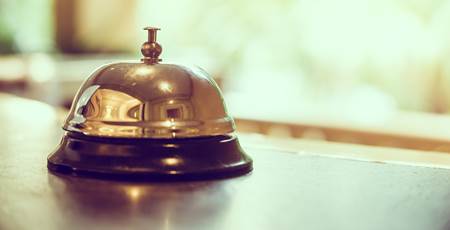 Cancellation & Rebooking
When booking the "Grand Best Rate" you have the possibility to cancel free of charge 24 hours before arrival.

Our other offers - packages, discounted rates and special offers - cannot be cancelled free of charge, but can be postponed to a later date.

If you are unsure, please contact the reservation department: [email protected] or +43 (0)1 51580 - 1836.